Whoo... media day, huh? So besides the Nets and Nuggets, the Portland Trail Blazers also unveiled new uniforms, this one a red alternate (not to be confused with their other red alternate). Take the jump for photos and thoughts.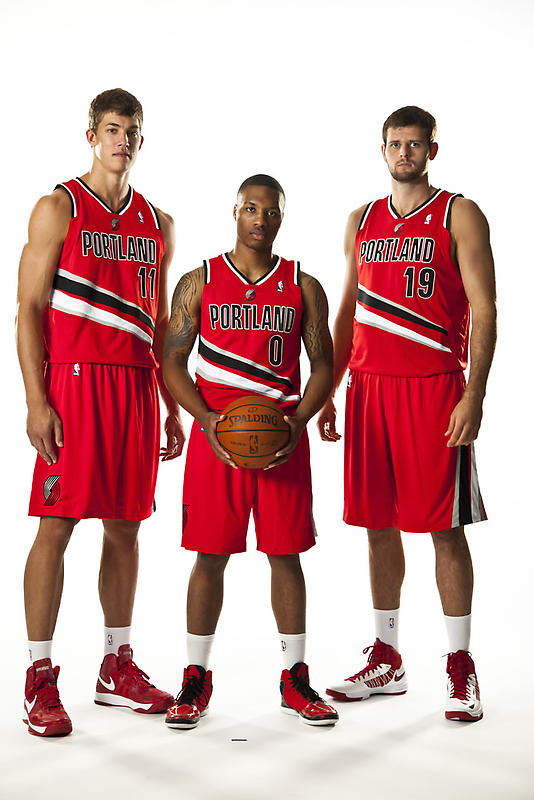 So... they changed the piping and they added a logo just below the neckline. They also changed the signature sash to two big, multi-colored spikes.
My first thought is... why? There's not that much of a differential between these and their
former red alternates
(which fit their uniform set, which these ones do not). I assume these will replace those (or possibly the Rip City jerseys). Maybe eventually Portland will change all their jerseys to match these, but right now these just seem out of place. It's like a Chinese knock-off jersey that's JUST a little bit different than the real thing.
The sash across the chest used to run right into the shorts and then continue down the side. These just come to a point, and then there's a separate set on the shorts. The addition of the logo above the wordmark seems unnecessary. It just adds one to many things on the jersey and makes it seem too busy.
Also... the half arm-cuffs! What is it with these? Why is adidas pushing these so hard? Does it serve a function? Honestly, if anyone knows, can you please inform me because aesthetically they are just bad.
I've already talked to a few people who like these and, frankly, I don't see why. I like Portland's usual set but these just seem forced and unnecessary. Your thoughts?